Arthritis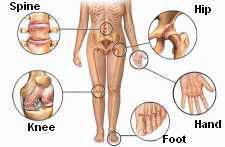 Arthritis is a term used to describe a number of painful conditions of the joints and bones.There are over 100 types of arthritis including osteoarthritis, rheumatoid arthritis, and gout affecting young and old alike. The symptoms includes swelling, pain, and stiffness and can affect many parts of the body.
Osteoarthritis
Rheumatoid Arthritis
Gout
This is the most common kind of arthritis, sometimes called 'wear and tear' arthritis and becomes more likely as a person gets older.
Rheumatoid arthritis is an autoimmune disease in which the body's defence mechanisms go into action when there's no threat.
Gout is a common joint disease, especially in men even to those who consider themselves reasonably fit.