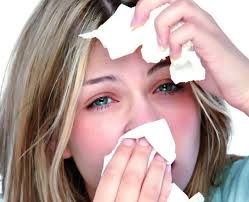 The type and severity of allergy symptoms vary from allergy to allergy and child to child. Allergies may show up as itchy eyes or an itchy nose, sneezing, nasal congestion, throat tightness, trouble breathing, vomiting, and even faintness or passing out. Severe allergic reactions (called anaphylaxis) can be fatal if not treated in time.
Airborne Allergy Symptoms
Airborne allergens can cause something known as allergic rhinitis, which occurs in about 7% to 10% of Americans. It usually develops by 10 years of age and reaches its peak in the teens or early twenties, with symptoms often disappearing between the ages of 40 and 60.
Symptoms can include:
sneezing
itchy nose and/or throat
nasal congestion
coughing
These symptoms are often accompanied by itchy, watery, and/or red eyes, which is called allergic conjunctivitis. (When dark circles are present around the eyes, they're called allergic "shiners.") Those who react to airborne allergens usually have allergic rhinitis and/or allergic conjunctivitis. Those who have asthma may have wheezing and shortness of breath from airborne allergens.
Symptoms of Food, Medicines, or Insect Venom Allergies
wheezing
trouble breathing
coughing
hoarseness
throat tightness
stomachache
vomiting
diarrhea
itchy, watery, or swollen eyes
hives
red spots
swelling
a drop in blood pressure, causing lightheadedness or loss of consciousness
Allergic reactions can differ. Sometimes the same person can react differently at different times. Some reactions are mild and involve only one system of the body, like hives on the skin. Other times the reaction can be more severe and involve more than one part of the body. A mild reaction in the past does not mean that a future reaction will also be mild.